Features Tour
Core Application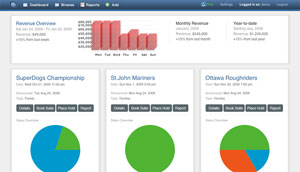 Quickly Review Revenue
Boxseat's dashboard view allows you to see where you stand and stay on target. In addition the reports feature let's you generate detailed revenue reports customized to your criteria.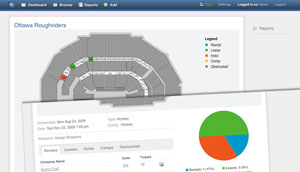 At-a-glance Event Views
View pertinent information for individual events including event details, rentals, leases, holds. You can also run reports specific to an event and get more specific.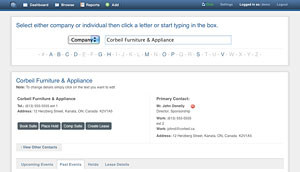 Customer Details
The customer details screen let's you see customer contact information, their upcoming events, past events, any suites currently on hold for them and, if they have a lease, their lease details. You can also book a suite, place a hold, comp a suite or create a lease for the customer from this screen.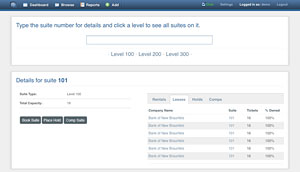 Suite Details
From the suite details screen you can quickly view individual suite details such as capacity and type as well as any upcoming rentals of the suite, if there is currently a lease (and if fractional what the percentages are and who the fractional owners are), as well as current holds and comps. You can also book, place a hold or comp the suite from this screen.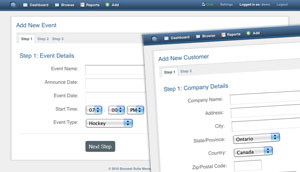 Easily Add Events, Customers, Suites
From the create menu you can create a new event or customer in seconds using Boxseat's intuitive step-by-step process.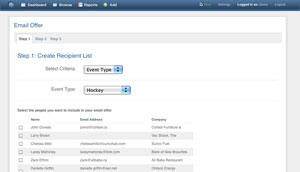 Targeted Email Offers
Build custom email campaigns and send them to past and existing clients who have bought suites based on a specific event type, date range, suite type, account rep. or rental type. Select all of the results or just individuals.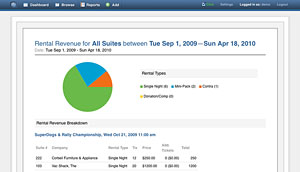 Detailed Reports
Boxseat contains many customized reports, including: rental revenue by all or individual suites, rental revenue by all or individual events, suite availability by date/event or suite number and occupancy by event.
Customer Views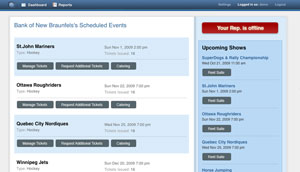 Customer Dashboard
After logging in the customer is presented with their dashboard where they can see all of their upcoming events, view upcoming shows not in their account and request suite rentals for them as well as chat in real-time with their account representative if they're online via the built-in instant messenger.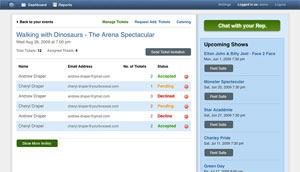 Ticket Invitation System
From the customers event details screen they can send customized invitations via email, specifying the number of tickets they'd like to provide. In addition the customer can also see who's accepted or declined their invitations as well as who they're still waiting a response from.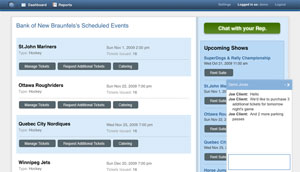 Instant Message Chatting
With Boxseat's built-in instant messaging function, if the customer's account representative is logged into Boxseat they can chat back and forth, quickly and immediately allowing the account rep. to answer any questions, address any requests and build deeper relationship with the customer.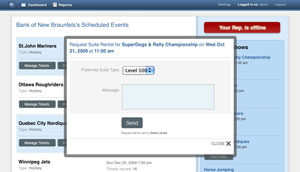 Event Requests
On the right-hand side of the customer dashboard is a listing of upcoming events the customer does not have a suite booked for. If they see an event that interests them via a single-click they can request a suite for that event.
Looking for more? Contact Us, if it's not there we can probably add it!